Women Leading in Ohio Agribusiness

Even though women have been working in agribusiness for decades, there are particular challenges that face women in professional agribusiness roles. Through small group discussions and input from members, OABA is pleased to offer a forum for women who are looking for resources from experts and peers alike to face these challenges - the Women Leading in Ohio Agribusiness program.
The program offers professional development, networking opportunities and more to OABA's female leaders. Women new or seasoned in the industry are invited and encouraged to participate and share with one another.
2023 Women Leading in Ohio Agribusiness Fall Summit
Join us for the 2023 Women Leading in Ohio Agribusiness Fall Summit! The event will feature keynote speaker Heather Suerdieck of Inside Out Coaching, who will focus on 'Unlocking Your Everyday Power.' We will also have breakout sessions on the topics of 'Leading from Where You Are,' 'Multigenerational Teams that Work,' 'Communication and Conflict Management,' 'Mental Health When Working in Agriculture' and more. It's a great opportunity to network with other women in agribusiness!
Event Details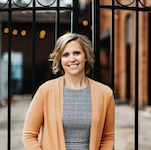 Keynote: Unlocking Your Everyday Power – Heather Suerdieck, Inside Out Coaching

Did you know that you could grow "you" while you were making coffee each morning? Or how about having an "ah-ha" about yourself while you buckle your seatbelt each day? Our daily lives have so many objects in them, but what if we rebranded how we think about them, and ourselves, while we use them? From birthday horns to coffee filters to cell phone chargers to seatbelts, there is empowerment all around us, but it takes special space to transform how we see these items. The morning keynote with Coach Heather will connect you with everyday items that will become your new tools of empowerment.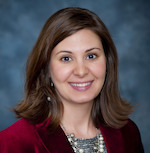 Closing: The Future of Agriculture – Jennifer Coleman, Aimpoint Research
We have entered the fourth agricultural revolution - the digital revolution of the industry and the entire agri-food value chain is transforming. Consumer demands, economic disruptions, and geopolitical concerns are also adding to the uncertainty. Aimpoint Research Director of Communications, Jennifer Coleman, will walk attendees through some of the most dynamic trends that could have significant impacts to agriculture over the next 10-20 years.





Impact & Connection Series
The Ohio AgriBusiness Association is pleased to provide leadership development and networking opportunities for the Women Leading in Ohio Agribusiness Program. Through the Impact podcast series and Connection networking events, Ohio's female leaders have the opportunity to dive into leadership and network with their peers.
Connection Networking Hour - NEW 2023 DATES!
The Connection networking hour provides a free opportunity for women to come together monthly and discuss current issues, while also networking with their peers. A safe space to explore timely topics together, Connection will include large group discussions, as well as smaller breakout discussions, with plenty of opportunity to get to know fellow agribusiness leaders.
New monthly 2023 Connection Networking Hour dates and times:
November - We look forward to seeing you at the Fall Summit for networking!
December 13 – 3 p.m.
CLICK HERE to sign up for the free Connection Networking Hours.
2022 Impact Podcast Series
Through the 8-part podcast series, Ohio's agribusiness women will be inspired by the stories of other women in agriculture who have been successful in their various roles. Each episode is 45-60 minutes long and consists of an interview with one guest. The 8-part Impact Podcast series was recorded in 2022 and is available for purchase for $80 for OABA members and $100 for non-members.
CLICK HERE to sign up to receive access to the Impact Podcast series.
Episode 1 - Chasitie Euler
The Impact podcast kicks off with Chasitie Euler as the first guest, diving into the critical need for intentionality in your work life and family life. As a working mom who has spent her career in agricultural sales and business, Chasitie shares her experiences evaluating priorities and modeling expectations for her team and for her kids. Learn how she approaches each day and why she believes gender isn't a barrier in agriculture.
Episode 2 - Cheryl Ricketts
The second podcast features Cheryl Ricketts - you won't want to miss this conversation! "Is there anything that women can do in the ag school?" When Cheryl Ricketts asked a college professor this question more than thirty years ago, she could never have imagined where her career would take her. Join us for this episode of Impact to hear how Cheryl eventually became president of her own HR and talent consulting firm and take away some great frameworks to consider for tackling problems, making decisions, and navigating career transitions.
Episode 3 - Angela Krile
"If the focus is on everyone else, it's going to come back around; you just have to trust that."
Angela Krile, President and CEO of Krile Communications, is our guest for the third podcast episode of the Impact & Connection series. In her conversation with host Marlene Eick, Angela describes identifying her greatest client (spoiler: it's not who you think) and how focusing on others has guided her career and impacted her communications firm.
Episode 4 - Traci Bultemeier
What did selling hundreds of cases of fruit each year in high school teach Traci Bultemeier about selling? Find out in this month's episode when Traci joins host Marlene Eick to discuss learning from mentors, making people feel heard, and more. Traci has worked with Pioneer for almost twenty years and also chairs the International Certified Crop Advisers Board, working with CCAs across the United States, Canada, Mexico, and Brazil.
Episode 5 - Anne Cook
Anne Cook focuses on safety every day in her role as Safety Director at Custom Agri Systems, so she knows a thing or two about stress, triggers and risks. In this month's Impact Podcast episode, hear Anne's ideas and experiences about how to notice stress in all areas of our work life and understand its impact on our bodies, brains and hearts.
Episode 6 - Jean Bratton
Jean Bratton is the CEO of Centerra Co-op, an agricultural cooperative here in Ohio, but the first season of her career found her working in Fortune 500 companies. Her training as an economist and experience with mergers and acquisitions has given her a unique perspective as a leader. You're going to love her ideas about marginal differences on teams and how we lead a team through big changes like a merger.
Episode 7 - Rhoda Warnock
"Do it scared." That's just the beginning of the perspective Rhoda Warnock gives in this episode of Impact. Rhoda has served as CEO of Coshocton Grain for two decades and shares her wisdom about change, mentoring others, and leading through crisis.
Episode 8 - Carolyn Eselgroth
If you've ever contemplated a career change - big or small - this episode is for you. After beginning a career as an agriculture journalist, Carolyn Eselgroth decided to change course and charted the next season of her career in agriculture law. In this conversation, Carolyn talks through making decisions about change and how to find the courage to execute a decision. We all experience change - don't miss this episode on finding the perspective and grit for your next change.