Industry Conference

From trade conditions to weather to a global pandemic, those working in agriculture never know what form a disruptor may take. But they have experienced, time and time again, that disruptors become a propelling force for change. A nimble agribusiness leader will seize the momentum of disruption to realize positive impact for their business – even if others fail to see the disruptor for the opportunity it is.
At the 2021 OABA Industry Conference, agribusiness professionals will address disruptors to the industry and learn to harness the momentum for change which they present.
Save the date! The Industry Conference will be held virtually January 27-29, 2021. Included in conference registration is the Safety & Risk Management Day on February 3.
Topics include:
Economic Outlook | Insects | Soil Health | Political Impact Outlook | Export Markets | Precision Planting | Hemp | Sulfur & Potassium | N Economics | Water Hemp | Eastern Corn Market | Ethanol Outlook | Meat Processing Industry & Demand | Customer Focus (farmer panel) International Trade & Policy | Disruptors in the Grain World
Registration
Registration for the 2021 OABA Industry Conference is $150 per person and grants participants access to all sessions during the conference and on-demand sessions up to 90 days after the event, as well as the Safety & Risk Management Day on February 3.
In order to access the virtual event, ALL participants must provide a valid, unique email. This email will be used to log in to the event platform.
If you are seeking CCA or Pesticide Applicator credits, be prepared with your appropriate identification numbers. These will be used to verify your attendance in sessions during the event.
For FIVE OR MORE registrations within the same company, the rate per registrant is $125. Please contact Andrew Allman - 614.326.7520 x.1 or aallman@oaba.net to register.
Program
More information coming soon! 
Accommodations
The 2021 Industry Conference is a virtual event - there are no accommodations for this event.
Special thank you to the Renaissance Columbus Westerville-Polaris Hotel - our intended host for 2021 and our Industry Conference host in 2022.
Sponsors
We know you are looking for innovative new ways to reach the industry and the 2021 Industry Conference is well-equipped to get you connected with decision-makers. Whether your company is looking to fill the top-tier Platform Sponsor or to engage with participants as an Exhibitor Sponsor, there are options to fit every budget and need. Details on each sponsor are available below or on the Sponsor Form.
Click here to register as a sponsor online or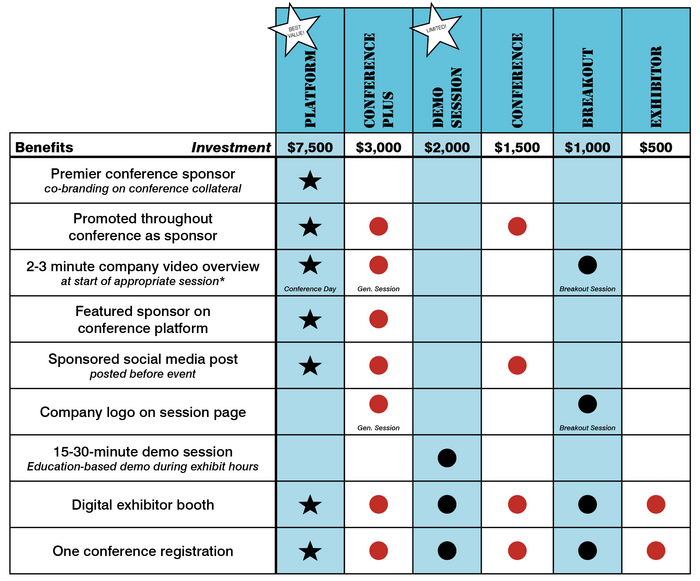 download and return the 2021 Industry Conference Sponsorship Form. To be included in all promotions, submit your sponsor registration no later than December 18.
Platform Sponsor - $7,500
Premier conference sponsor – co-branding on conference collateral
2-3 minute company overview at start of each conference day (pre-recorded video)
Featured sponsor on platform homepage
Sponsored social media posts before event
Digital exhibitor booth
Conference Plus Sponsor - $3,000
2-3 minute company overview at start of general session (pre-recorded video)
Featured sponsor on platform homepage
Company logo on session page
Sponsored social media posts before event
Digital exhibitor booth
Sponsored Demo Session - $2,000
15-30-minute demo/company information session
Education-based demo
Held during exhibitor hours
Digital exhibitor booth
Conference Sponsor - $1,500
Featured sponsor on platform homepage
Sponsored social media posts before event
Digital exhibitor booth
Breakout Sponsor - $1,000
2-3 minute company overview at start of breakout session (pre-recorded video)
Digital exhibitor booth
Digital Exhibitor - $500
Digital exhibitor booth on conference platform

Virtual meeting room
Contact button
All sponsor levels include 1 conference registration ($150 value)