Complete Story

Ohio CCA Exam Prep Course
In-Person: January 12-13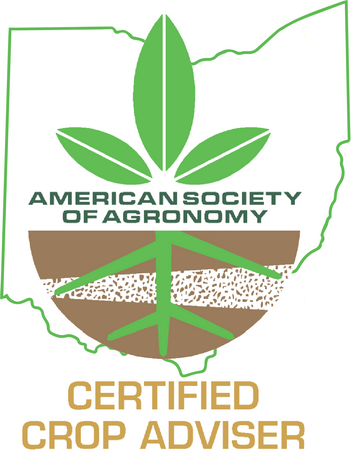 Practicing agronomists can highlight their knowledge, experience, and dedication to crop production advising through the Certified Crop Adviser (CCA) program. The program provides a professional benchmark for agronomists in the United States and Canada. To become certified, individuals must have a mix of experience, education, sign a code of ethics, and pass two exams. In addition, to maintain their certification, they must earn 40 hours of continuing education credits every two years.
The first step to becoming a CCA is to pass both the international and local exams. Both exams are scheduled and taken online. The International Exam is available continuously throughout the year. The local exam is given during a specific period, twice a year. The next local exam opportunity is February 2-9, 2022. The registration deadline is January 5, 2022. You can schedule for one or both exams today at www.certifiedcropadviser.org/exams/.
Ohio State University Extension is offering an in-person CCA Exam Preparation Course for the upcoming exam. The preparation course provides an overview of the four objective areas of crop management, nutrient management, pest management, and soil and water management tested on the International and local exams. These are a good review for recent graduates beginning their careers or seasoned agronomists who have been away from the classroom.
In-Person Exam Prep - January 12-13
The next in-person exam prep course will be held January 12-13, 2022 at the Shelby County Ag Building, 810-820 Fair Rd, Sidney, Ohio 45365. The course fee of $250 includes publications, instruction, and two lunches. Course registration is limited to 25 participants. Click here to register for the in-person course.
OSU Extension will provide at the program the following publications in addition to the lectures:
Ohio Agronomy Guide
Ohio, Indiana & Illinois Weed Control Guide
The Ohio Corn, Soybean, Wheat and Forages Field Guide
Tri-State Fertility Recommendations and recent updates
Modern Corn & Soybean Production
Many handouts, and access to all digital content
Meals, snacks, water and coffee will be provided at the site. If you have meal restrictions contact Lee Beers at beers.66@osu.edu or call 330-638-6783.
Ohio AgriBusiness Association administers the Ohio CCA program. For more information on the Ohio CCA Program, visit www.oaba.net/cca.
---