Complete Story

2017 Ag Retailer Survey Report Release
This year, the Partnership for Ag Resource Management (PARM) conducted a literature review (occurs every three years) on nutrient loss reductions of various products and services to integrate into the updated Nutrient Calculator originally developed in collaboration with Heidelberg University's Center for Water Quality Research. This calculator generates estimated total N, TP and DRP loss reductions from ag retailer serviced acres using these products and services.
The 2017 season survey introduced questions on specialized N applications and practices informing variable rate applications. PARM also introduced a survey specific to New York ag retailers that coincides with the CropLife/Purdue University Precision Ag Survey and our regular survey, with added questions on dealer and customer barriers to precision ag adoption.
Here is the link to both reports: http://partnershipfarm.org/news-2/. Below are a few meaningful graphs from the report.
Majority of the 68 survey ag retailer participants reported profits in each product and service below.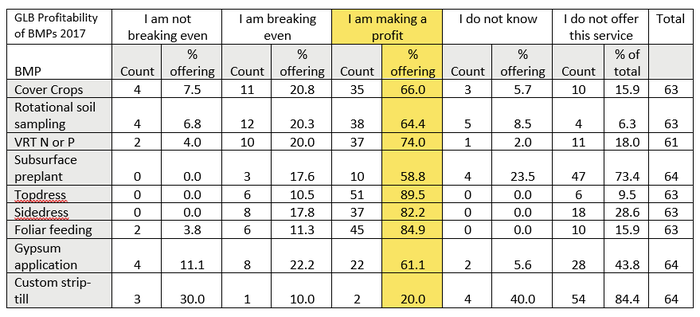 Retailers in the Sandusky River Watershed, where the project started in 2010, continue to show increased sales in beneficial products and services: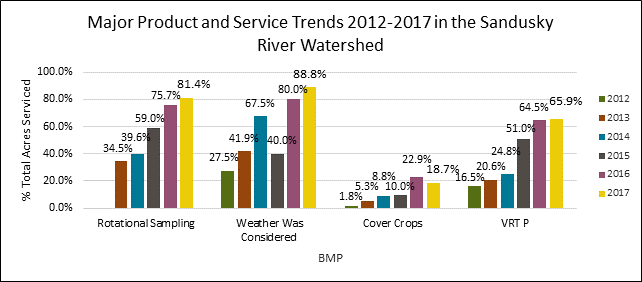 Similar increases have been noted since the survey was expanded into the entire Great Lakes Basin in 2015: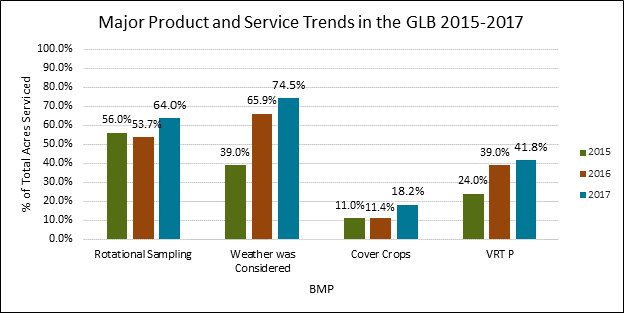 The results from the New York survey found the primary barrier to customer adoption of precision ag was a lack of assurance in precision ag data. This directly corresponds with the second highest dealer barrier of communicating and presenting the benefits of precision ag services to their customers.