Complete Story

Deadline Extended! Register for 2017 Bin Entry Tech Rescue Training at Early Bird Rate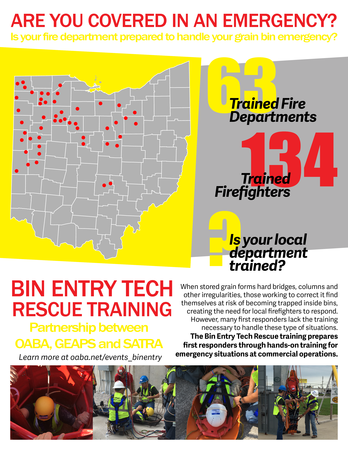 To help promote grain bin knowledge and safety, the Ohio AgriBusiness Association, in partnership with the Grain Elevator and Processing Society (GEAPS) and the Safety and Technical Rescue Association, will offer its 2017 Bin Entry Tech Rescue Training program for firefighters, first responders and grain personnel Aug. 22-25 in Sidney, Ohio.
SATRA will conduct the training under NFPA and OSHA standards, which will be lead by professional firefighters. Training topics include confined space rescue, incident command, basic rope systems, fall protection, engulfment rescue, patient packaging, fall prevention and atmospheric monitoring.
The first two days of the training will build practical skills, including rope and harness work, to prepare participants for advanced scenarios. During days three and four, participants will learn rescue procedures using 130-foot grain bins at the GEAPS Safety Training Center, where they will work in teams of eight to plan and lead rescues in bins, with SATRA teachers on-site to monitor and check work. At the conclusion of the training, students will work through an entire rescue scenario, from the first call through the grain bin rescue.
Click here to download the above infographic.
Registration
The Bin Entry Tech Rescue Training program will be held at the Grain Safety Training Center - Sunrise Cooperative at 701 South Vandemark Road, Sidney, Ohio 45365.
Registration is open to grain personnel, firefighters and other first responders. The early registration rate of $795 has been extended. All registrations must be made by Aug. 4. Participants are responsible for their own hotel reservations, with details provided in online registration materials at oaba.net/events.
Sponsorship Opportunities
Sponsorship opportunities are available for the Bin Entry Tech Rescue Training at various levels. Companies will be promoted at the event, as well as in the GEAPS "In-Grain," Grain Journal and OABA print and electronic publications.
For a complete agenda, additional details and sponsorship opportunities, visit the event listing at oaba.net/events or call 614-326-7520. For more information, contact Steve Queen at 260-740-1217.