Janice Welsheimer
Director of Educational Programs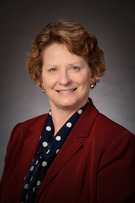 Janice Welsheimer is the director of educational programs for the Ohio AgriBusiness Association. She provides leadership and direction for OABA's educational programs, including workshops, seminars and conferences. She also serves as the executive director of the Ohio Certified Crop Adviser program and Ohio Agricultural Council. She joined the OABA team in April 2017.
Janice is a graduate of The Ohio State University with a Bachelor of Science degree in agricultural economics and a Master of Science degree in agricultural education.
Her previous experience includes Nationwide Insurance as a senior relationship manager working with state farm bureaus and agricultural cooperatives, Ohio Farm Bureau Federation as a regional supervisor and Ohio State providing student recruitment for the agricultural and natural resources majors. Welsheimer has also worked with the OSU Leadership Center, Wilt Public Relations and Frito-Lay.
Welsheimer resides in Clark County, Ohio with her husband and their two children on a commercial beef farm operation.