OABA History
Complete Story

Christopher Henney, CAE
President and CEO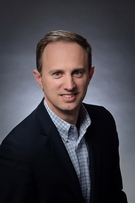 Chris Henney joined the Ohio AgriBusiness Association in May 2011 as the president and chief executive officer. In his role, Chris directs the vision, mission and strategy of the membership-based organization, advocating for Ohio agribusiness by creating a sustainable business climate through collaborative policy leadership, continuous education and effective communication.
Prior to joining OABA, Chris held several successive positions at the Ohio Farm Bureau Federation, culminating as the director of legislative relations. In that capacity, he represented the organization before the Ohio General Assembly, as well as agencies and departments of state government.
In addition to leading OABA, Chris serves the industry through various boards and organizations. He currently serves on the Vice President's Advisory Council for The Ohio State University's College of Food, Agricultural, and Environmental Sciences and the advisory board of Herdmark Media. He is past chairman of the Ohio FFA Foundation Board of Trustees and recently completed a three-year term on the board of The Fertilizer Institute. In 2008, Chris was appointed by then-governor Ted Strickland, to the Executive Order of the Ohio Commodore for his work on rural broadband.
Chris holds a Master of Business Administration from Capital University and a Bachelor of Science in Agriculture from The Ohio State University. He also holds the designation of Certified Association Executive. He and his wife Beth reside in Columbus, Ohio with their two boys, Aidan and Patrick.